HDI Heartland Chapter Events
Multi-faceted meeting in May!
Date:

Tuesday, May 13, 2014

Time:

2:00 p.m. to 5:00 p.m.

Location:

One Kansas City Place




1200 Main Street


Kansas City, Missouri 64105

Topic: Plan to attend this month's HDI Heartland Chapter Event! We are excited to present a multi-faceted meeting in May. First, we will provide a digital experience of the HDI Conference highlights and a very moving keynote speaker. This was a dynamic experience for those that attended, please plan to join us. Also, we would like to have a member roundtable and hear from you! Our officers have been hard at work, developing programs and chapter meetings that are of interest to you, our members, but we need your help. Please come and plan to participate, and help us to continue to make this the best year for your Heartland Chapter. In addition, there will be a great door prize just for attending. We are offering a lucky winner the opportunity for a free online HDI training opportunity, a value up to $795.
---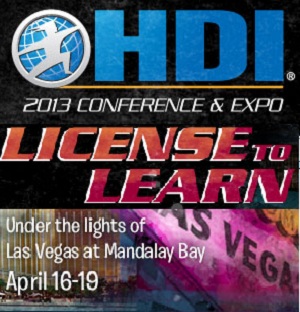 Conference registrations:
Buy 5 and get the sixth free!!!